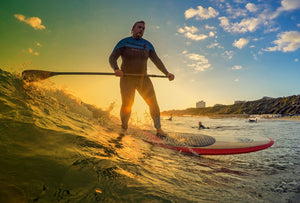 FREQUENTLY ASKED QUESTIONS
Who? What? How? Where? When? Why?
These SUPs are an all-round design great for paddling on flat water or surfing. The Race boards we stock are for flat water use; touring or racing. Check out our FatStick movie to see the boards being used in a range of conditions via the link below.
Apart from the race SUPs all our SUPs are pretty much the same shape, just differing woods and colours.
These are all-round boards great for beginners through to expert. Generally the higher skill level you have, the smaller board you will opt for.
Please call us for further information on this subject if you are unsure.
It is our mission to bring the sport of SUP to the masses at low cost. We import our boards direct and sell to the customer, so there are no retailers involved; effectively you are purchasing boards at near wholesale prices!
No problem, we are based in Bournemouth; come visit us to view or try our boards anytime.
You can either purchase a board though our site or come to us directly. We accept bank card and credit card payments.
Reference Hard boards; Pick up is free of charge from our warehouse in Bournemouth and is our preferred method. We can deliver in a 20 mile radius for £20. Most other UK locations cost £79 via TNT courier. Please allow us a little time to pack and post your board safely.