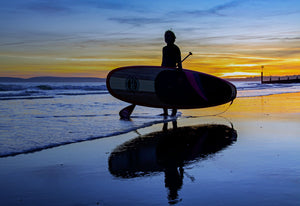 First time Buyer Guide
WHICH BOARD IS THE RIGHT BOARD?
Never Supped before? Here's your guide to get you the right board.
BUYING STAND UP PADDLE BOARDS CAN BE A DAUNTING PROCESS FOR BEGINNER PADDLERS.
Once you've got to grips with standing, balancing and using your paddle you'll no doubt be looking to invest, yet with a multitude of options it's hard to know where to begin.
WIDTH AND VOLUME
SUP sizes are usually quoted in width and volume dimensions. Length also plays a part and some brands list tail measurements. You may already have in mind the length you're after but this alone won't give an accurate picture.
For instance: some sub 9ft SUPs can be just as stable as 10ft+. It's best, however, to go for something between 9ft-10'6ft. The longer the board the better the glide (or momentum) you'll have. Longer boards also track (point) slightly better meaning less corrective strokes – although you can over board with length and end up with something that's difficult to turn.
If you're on the lighter side (sub 80kg) then you'll get away with widths a little less than 30" – although don't go too narrow! If you're bigger boned then 32" would better. Around 190L would be a good starting point for larger individuals whereas 150L-170L for lighter paddlers should be fine.
Board Types
There's a plethora of SUP shapes available with funky colours and accompanying marketing spiels that proclaim: 'buy this now, it does everything and you'll be the next SUPerstar!' While we wish this were true, the fact is, it's not that simple.
As a beginner it's best to choose something billed as all round. These designs usually come with rounded noses and wide tails – although don't worry so much about this.
Some brands do market their pointy bow boards as being 'do it alls' and while this might be a good shape if you're only ever going to paddle on flat water, it might be wise to choose a board that can handle small waves. After all, at this stage of your paddling career, you don't want to specialise or limit yourself – experiencing all that SUP has to offer is much wiser.
Should I get an inflatable or rigid paddle board?
For more advice on choosing your board check out our blog post on Inflatable Paddle Boards (SUP) Verses Rigid/Solid SUPs
DON'T FORGET YOUR PADDLE
Once you've decided on your board of choice you'll need to consider the 'engine' – or paddle.
Many forget that it's this one piece of kit that differentiates us from all other watersports. Spending a little more of your hard earned cash on your paddle is better than forking it all out on a board. That said the best for what you can afford should always be the best course of action.
Whatever you ultimately end up getting hold of make sure it's the right kit for you, what you aspire to and where you generally play. Do your research, give us a call and chat through your requirements and speak with others, this way you'll be guaranteed you end up with the right thing.
Still need some help?
For more advice on choosing your stand up paddle boarding equipment give us a call on 07791 076537 or visit our contact page