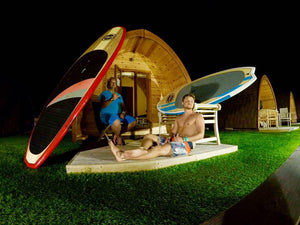 The Team
MEET THE FATSTICK TEAM
We are Team FatStick!
HERE AT FATSTICK WE ARE PASSIONATE ABOUT PADDLEBOARDING AND SURFING.
We are proud to have a selection of dealers and team riders that test our products and make sure we are continually evolving and producing boards that give outstanding performance and great experiences every time.
REUBEN MAY
Owner and creator of FatStick, Reuben began his life surfing and after suffering back problems and unable to prone surf any longer – he needed a route back into the water. This was the beginning of FatStick. Reuben lives for the brand he created and grew alone – it gives him such a buzz to see people out there, riding FatSticks.
Reubs is far from a one man band now, as FatStick has grown with team members, team riders, new countries and FatStick Family Members!
ELIZABETH MAY
Elizabeth is one of our FatStick ambassadors who rides our 10ft Pink Panther SUP. Elizabeth's passion is to encourage more ladies to get into the exciting sport of stand up paddle boarding. Elizabeth loves to go out for a relaxed paddle on those sunny days in addition to riding small mellow waves in Devon.
ANDY WARNER
Co-owner and Reuben's partner in crime, Andy is based at Hayling Island and gives input into the brand at all levels.
Andy came into SUP later in life and has a true passion for the sport. He loves to help people get on the water.
Andy works closely with local charities and loves to raise awareness surrounding mental heath, our ethics and our sustainability goals!
SAM ROGERS
Sam is a stalwart of the team having been with FatStick almost from the very start. Sam has a great knowledge of SUP and has travelled with us to our factories to see the boards being built.
A keen and epic photographer, Sam is responsible for some of the awesome pictures we have. We're very lucky to have Sam on the team – check out his Facebook and Insta Pages – Sam Rogers Photography
Facebook
ANDY CAMPBELL
Andy Campbell is our Team Rider in New Quay, Wales. A true waterman – Andy will ride anything if it means he can be on the water – from short board to Race Board….and he'll surf them too!
A qualified instructor, a great surfer, SUP surfer, all round paddler….Andy is just an all round great guy with a huge skill set!
Most importantly….he has a massive passion for being on the ocean.
PETER EDKINS
Porthleven charger Peter Edkins is one of our wave rider FatStick team members. Peter uses the FatStick 8'6 Wave Fish (pictured) and is always out in the water down in Cornwall if there is a wave to be had! Peter has been surfing and paddleboarding for many years and gives use regular feedback on our boards to help improve design.
HANNAH LOUISE GARBER
Hannah previously owned her own SUP brand which she closed in order to move to the amazing island of Mallorca. She left the UK for a new adventure taking only her 2 dogs and a few boards.
She has linked up with FatStick Spain and is a great ambassador for FatStick offering lessons, board hire and sales…in fact, there's not much she doesn't do when it comes to SUP.
If you're ever over in Mallorca – get in touch with Hannah! She'll get you out there!
Facebook
DAVE LUDGATE
Our guy in Ireland, Dave Ludgate is a passionate conservationist. We first met Dave online whilst chatting to him about a SUP that can be used for Coastal and River Cleans around his home city of Cork.
Dave paddles a variety of boards, the large fishing board, a rigid tourer and a Wave Fish.
An all round great guy who has a genuine passion for SUP and all it can bring.
EMILY MCDONALD
Emily is a Hayling Island SUP Girl and the creator of the Facebook Group of the same name – getting a group of ladies together and helping them to find the right boards for them and their needs. Emily has grown into the world of SUP and her need to be on the water drives her.
Em is a keen SUPer and a FatStick Ambassador, helping people to get into the sport.
GONZALO & JOANNALEA
These legends are the team behind Fatstick España. Both Gonzalo and Joannalea work tirelessly to bring the FatStick boards and brand to Spain.
If you're ever over in Rada De Moraira, Valenciana – give these guys a shout! And take a look at some of their pictures…although, we will warn you, you may be a little envious.
Facebook